Doppler ultrasound can be used for assessing blood flow to the placenta and through the umbilical cord.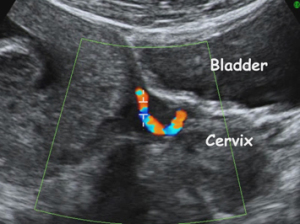 The blood supply to the uterus comes mainly from the uterine arteries. There is a right and a left uterine artery. We can assess the impedance of flow through the uterine arteries. At 2o weeks we can use this technique as a screening test. We know that increased impedance of blood flow is associated with increased risk for subsequent development of pre-eclampsia and intrauterine growth restriction (IUGR)
Women with normal impedance to flow in the uterine arteries will have a low risk of developing complications related to placental insufficiency.
In those women who have increased impedance to blood flow we would recommend  fetal wellbeing scans to monitor the baby's growth.
It is important to remember that this is a screening test and not a diagnostic test, and that we sometimes identify women as high risk who turn out to have a normal pregnancy.